In Our Own Words: A Family Promise Journey
Several years ago, like millions of other Americans I found my family with nowhere to stay, and little money to survive. When we were accepted into the Family Promise Metrowest program, their support network and process sounded impressive, but I had no way to know what a beneficial experience it would be. If I said today that I regret our coming into the circumstances that led us to stay at Family Promise, I would be lying. From the program administrators to the many volunteers who not only sacrificed their time, but shared their encouragement, empathy, cheerfulness, and energy, we met more people and benefited more from the best our communities have to offer than anything else we could have done.
When we entered the Family Promise program, we were introduced to a myriad of people who instantly became acquaintances, counselors, and friends. Our participation demanded not just cooperation and organization of schedules and responsibilities, but also commitment to building financial efficiency, awareness, and collaboration between all members of our family. As we progressed in our employment and savings, we set and met goals which built our confidence that we could handle life independently.
We also got to know fellow families from varying backgrounds, sharing our experiences and supporting each other. And we got to meet volunteers on a daily basis who did far more than just invest their time and effort on behalf of our dinner and sleep. They shared their stories, current events in the neighborhood, and pieces of their own family experiences.
While we have kept up with several of these friends in person and on Facebook, we found ourselves close by and in need of support this year, due to health issues. Once again, Family Promise came through for us in a huge way, allowing us to join the LIFE program and stay in the comfortable home we live in now. And then, when the corona virus drastically affected lives across the country shortly after, we again received critical support and financial help to keep us going. Our elder daughter just graduated from college, and although the formal ceremony is postponed until next year, we had our own little celebration on campus last month.
The problem of housing and homelessness is a socioeconomic issue that must be seriously addressed on a national scale, but Family Promise is the model for human collaboration and inspirational spirit necessary to conquer the problem. All the money in the world cannot buy or substitute for people of all different backgrounds, faiths, and beliefs expressing their love for one another in an active, exhilarating context. We made friendships with other families and learned and benefited from counselors and activities that continue to enrich our lives today.
The cultural stigma that exists in our country discourages people from seeking help or accepting aid from strangers even when it is most needed. The truth is that everyone, everywhere, no matter their personal success, wealth, or station in life needs help at one time or another. And those who have the opportunity to provide that help benefit from sharing their time and company, enriching their own lives as well. As valuable qualities in life like patience, perspective, and simplicity have dissipated over the last century, I hope for the expansion of programs like Family Promise to put people on the right track toward handling basic economic and practical necessities in life, which can be overwhelming for any family.
—Rob Floyd and Family
---
A Family Conversation
We are in the midst of a difficult time for our nation, and the challenges we are facing are weighing heavy on all of us. As an organization that stands by our mission and treats every individual with dignity, we wanted to begin the conversation around the current events within our communities. Our shelter program coordinator, Stephanie, recently spoke with our families about how they were feeling:
A few weeks ago, I reached out to our families in shelter and SAIL to address the concerns they might have surrounding racial biases and recent protests. This discussion prompted the question: how do we have such heavy conversations with our children, especially those that are in elementary school? As a mother of a 7-year old and a woman of color myself, my first instinct was to shield my daughter from the current events and not discuss the racial injustices. As I began to process all that was happening though, I felt that silencing my beliefs was not the right answer. Understanding that she may become very concerned and confused about the recent events, I decided to have an open dialogue, which allowed my daughter to express how she felt.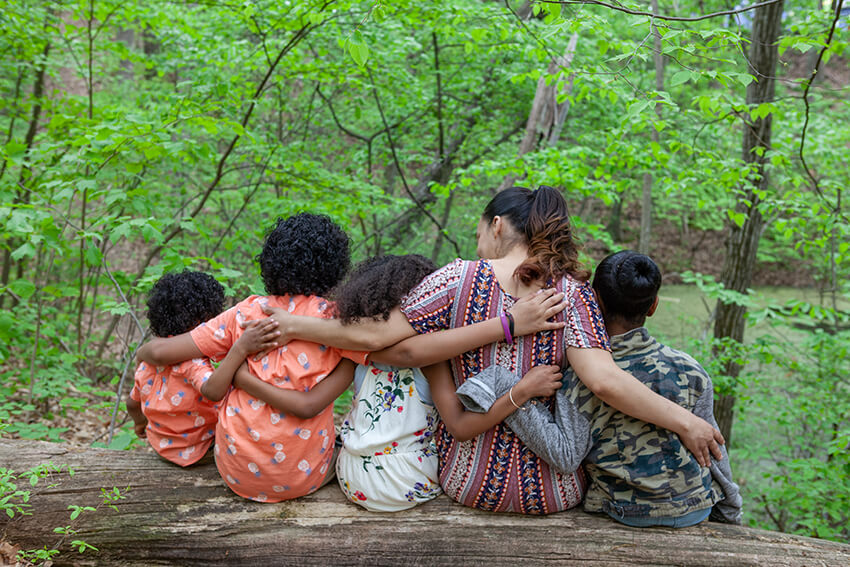 In an email that I then sent out to the families, I explained that having the conversation may be tough, as our children may not be able to fully comprehend racial biases, but that it was important to be honest with them. I provided helpful tools and resources that could help educate their children in the most simplified way. Each family then began to share the different ways they addressed the conversation with their children. Some watched movies, and others allowed their children's teachers to have the conversation with them. In the end, as one of our mothers, Fabienne, shared with me, the message was the same: "No matter what your skin color is, we should all be treated equal, and never treat anyone poorly." Another of our mothers, Jackie, wrote "I remind my daughter that we're all from different countries but we're all the same. I try to instill in her to always be nice and treat people in the way she wants to be treated."
Many of our families not only experience racial injustice, they've also been marginalized due to their homeless status. One of our goals at Family Promise is to educate those with biased beliefs about homelessness. As an organization, we strive to educate and enlighten not only our families, but our network of supporters and broader community. We stand behind treating every individual with respect and dignity regardless of their race, religion, or gender. Family Promise Metrowest stands in unity with all parties fighting to end structural discrimination in the United States.
—Stephanie Di Dio, Shelter Program Coordinator
---
Virtual Volunteers: Teen Tutors Step Up
Quarantine, virtual classrooms, and homeschooling—ideas that six months ago would have been foreign concepts to many of us quickly became new realities for families this spring due to COVID-19. Quick adjustments were essential to ensure the students in the families we serve would continue to thrive during the shutdown of their schools.
Jessica, one of the Family Promise Club leaders at The Rivers School, reached out to us in April with an offer from their club to provide online tutoring for children in our programs. Our case manager Eliz had recently heard from one of the mothers in our LIFE program that her son was struggling with the transition to remote learning. She immediately connected with the family knowing they might benefit from the extra support, and the mom readily agreed. The tutoring began right away with Amanda, a Rivers student, who began meeting weekly via Zoom with Jeffrey.
In the end, it was a phenomenal experience. Jeffrey's mom sent this note at the end of the school year:
"I wanted to say thank you to Amanda for tutoring my oldest son. He is on an IEP and sometimes school can be a challenge for him with his ADHD. Amanda has helped reinforce what he learns throughout the week in math class with him as this is a difficult subject for me to help him with. She is patient, kind, and intelligent. He never complains when I say he has tutoring and that's a big deal as he does not look forward to schoolwork. Lol. His teachers had many wonderful things to say about him during his last IEP meeting for the year last week. It was a great feeling to be able to say I was able to provide a tutor for him though this transition to virtual learning. Thank you so much, you are all a major blessing."
Amanda felt equally rewarded by the experience:
"I am so glad I was able to help him. He came to every session with a smile and was always willing to learn. Even when material was difficult, he paid attention and was able to figure it out. I am so thankful that he brought so much positivity because it made me enjoy tutoring him as well as I helped him learn and understand things. Throughout our sessions, he made so many improvements, and I'm so glad I was able to help with that!"
Family Promise Clubs are groups in our local high schools that educate youth on the social issue of family homelessness and engage them in purposeful volunteering with our guest families. We are so grateful for our Family Promise Club at The Rivers School for initiating and thinking creatively about how to support our families during the COVID closures. Three of their students provided support over the last few months for three children in our programs, and we are looking forward to more enriching connections going forward.
—Kathy Rodman, Volunteer Program Assistant